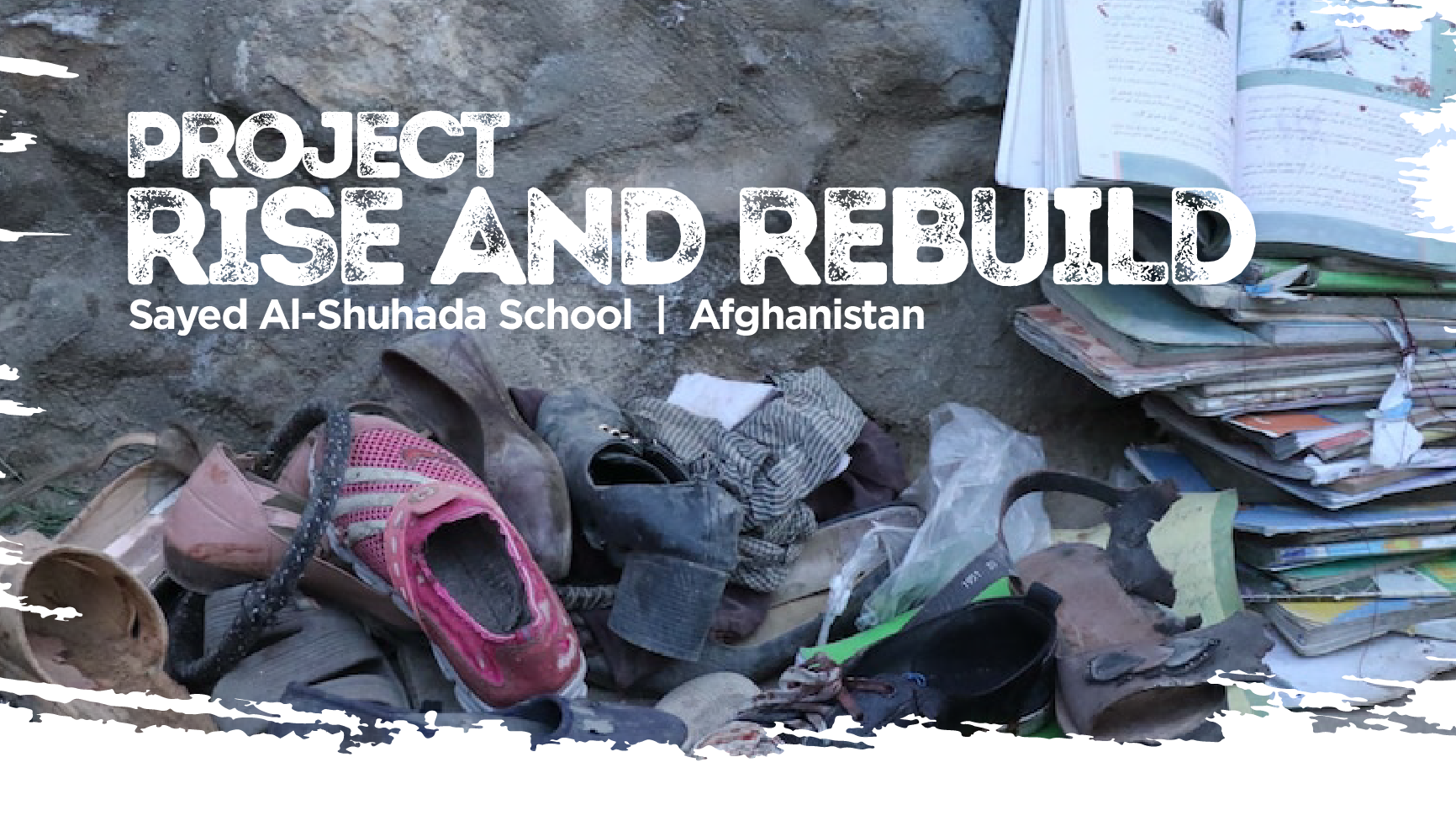 Project Rise and Rebuild
– Sayid Al-Shuhada School – Kabul
On May 10th, 2021, three horrific explosions took place targeting schoolgirls in Kabul, killing more than 90 children and wounding over 150 more innocent civilians. The Sayed Al-Shuhada School, hosting classes for boys in the morning and for girls in the afternoon, provided learning opportunities to over almost 14,000 students overall, with 7,500 female students enrolled in afternoon shifts. The area of the school attack is home to a large community of Shiites from the Hazara ethnic minority, which has been frequently targeted in the past by armed militants in Afghanistan. Thousands of innocent schoolgirls, already facing significant barriers to education amidst the escalation in conflict in Afghanistan, now face additional challenges in returning to learning in Kabul.
Creating an ICON of resistance, we are going to send a message "you may try to destroy but we will BUILD BACK BETTER", although the school was not badly damaged, we would like to provide better facilities for the students in a very impoverished area of Afghanistan.
We are going to try and build the following facilities
LIBRARY – Syeda Khadija A.S. Library
COMPUTER LAB – Syeda Fatima Zahra A.S. Laboratories
MEMORIAL PLAYGROUND – Syeda Sakina A.S. Playground
WASH – Water Sanitation And Hygiene facilities
SECURITY UPGRADES
WELL – Al Abbas ibn Ali A.S. Well
JOIN US AT THE BUILD BACK BETTER FUNDRAISER
Jointly Hosted By :
Nabi Akram Islamic Centre, Noor Relief Fund, Al Mahdi Association, Markaz-e-Irshad, Imam Ali Centre, Imam Hasan Centre, Imam Hasan Foundation
In honour of our First Imam, the father of the orphans, we invite you to participate in the fundraising dinner.
Saturday July 24th | 7:00pm. – EID-e-Ghadeer
TICKETS
Tickets $145 – per person.
Family ticket $390.00 (2 adults and 2 children under 16)
SPONSORS
GOLD SPONSOR – includes 4 tickets $2500.00
SILVER SPONSOR – includes 3 tickets $1500.00
BRONZE SPONSOR – includes 2 tickets $1000.00
Imam Ali AS – Al Wali Sponsorship $5000.00 includes 5 tickets.
If you are unable to make the fundraiser please feel free to make a donation towards this appeal.