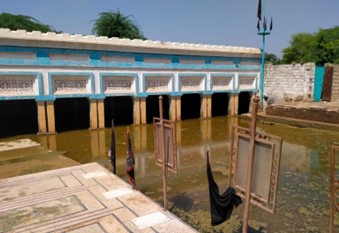 Rebuild Mosques and Islamic Centres in Pakistan
Pakistan Mosques & Imambargah Repair & Reconstruction
Mosques and Imambarghas (Centers) play an important part in the community not only do they offer religious services but are central to the wellbeing of the community, a place to meet and participate in social activities as a community. They are also the first point of contact when people are in distress.
During the floods many Mosques and Imambarghas were damaged, some completely and some requiring significant repairs.
Imam Hasan Foundation requested WF-AID for a detailed report on Mosques Imambarghas needing urgent repairs, below is a list of the ones we are hoping to raise the funds to rebuild or repair.
Total estimates for the rebuilding and repairs of these Mosques and Imambarghas will cost approximately US $ 100,000 – AUD$150,000.
We have been advised KHUMS CANNOT BE USED FOR THESE WORKS ONLY DONATIONS.
| | | | | | |
| --- | --- | --- | --- | --- | --- |
| Province | District | Village | Province | District | Village |
| Baluchistan | Jaffarabad | Goth Pir Amir Khan Balidi | Sindh | Larkana | Mitho Dero |
| Punjab | Dera Ghazi Khan | Kalachi Shumali | Sindh | Larkana | Village Subdar Sargani |
| Punjab | Dera Ghazi Khan | Basti Lari | Sindh | Larkana | Mohammad Khan Khoso |
| Punjab | Rahimyar Khan | Khan Bela | Sindh | Sukkur | Goth Long Bhunbhru |
| Punjab | Rahimyar | Fakhrabad | Sindh | Sukkur | Goth Mohammad Sachhal Salehpat |
| Punjab | Rajanpur | Dera Rahimyar Khan | Sindh | Sukkur | Goth Sahib Dino |
| Punjab | Rajanpur | Basti Bughlani | Sindh | Khairpur | Abra Muhalla |
| Punjab | Rajanpur | Bajhi Wala | KPK | Dera Ismail Khan | Jhokk Jhaida |
| Punjab | Rajanpur | Basti Chaachar | KPK | Dera Ismail Khan | Hazara Kacha |